WGL Holdings is the parent company of Washington Gas.
Photo from Washington Gas Living's website.
About WGL Holdings, Inc.
WGL Holdings, Inc. is a utility holding company with multiple subsidiaries serving Washington, D.C. and the surrounding areas. The company operates multiple subsidiaries, but its largest subsidiary is Washington Gas, which provides natural gas service to more than 1.1 million customers in D.C., Maryland and Virginia. WGL Holdings has more than 1400 employees and is headquartered in Washington, D.C.
WGL Holdings' operations include:
Distribution/Regulated Utility: This operation distributes natural gas to Washington Gas customers and other regulated energy markets.
Distributed Generation: This operation is responsible for designing, building and operating on-site energy systems. Included in this is the WGL Energy Systems subsidiary, which is responsible for WGL's green energy solutions.
Retail Supply/Energy: This operation markets and distributes energy to competitive and unregulated markets.
Midstream: The midstream operation is run by the WGL Midstream subsidiary, which invests in and owns natural gas pipelines and storage facilities in the Midwest and Eastern U. S. and is responsible for supplying the wholesale market customers – including Washington Gas – with natural gas.
In the 2014 fiscal year, which ended September 30, 2014, WGL Holdings reported net income of $105.9 million, up 31.9% from $80.3 million in the prior year (all figures are GAAP numbers). Earnings per share in 2014 were $2.05, up 32.3% from $1.55 per share in the prior year. The year-over-year growth can be attributed to an increase in earnings in the regulated utility and midstream energy services operating segments. Regulated Utility earnings increased 36% to $1.89 per share while Midstream Energy services earnings swung to a gain of 12 cents per share from a loss of 36 cents per share in 2013. This more than offset the 75% drop in earnings from Retail Energy operations. The WGL board expects that the 2015 fiscal year will see earnings grow by 8 – 16%, which exceeds the company's long-term earnings growth objectives of 5 – 7%.
The company is a member of the S&P Mid Cap 400 index and S&P's High Yield Dividend Aristocrats index, and trades under the ticker symbol WGL.
WGL Holdings' Dividend and Stock Split History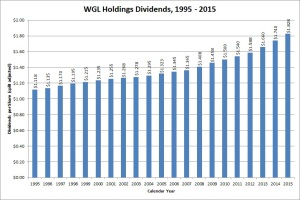 WGL Holdings has paid dividends for over 160 years and increased them since 1977. The company usually announces dividend increases at the beginning of February, with the stock going ex-dividend in April. In February 2015, WGL Holdings announced a 5.1% increase in its dividend to an annualized rate of $1.85. I expect WGL to announce its 40th annual dividend increase in February 2016.
Like most mature utility companies, WGL Holdings has a record of very slow dividend growth. The recent dividend increase of 5.1% is the largest in over 25 years. The company has a 5-year compounded annual dividend growth rate (CADGR) of 4.03%, and a 10-year CADGR of 3.29%. Longer term, the dividend growth rates are even lower, with 20-year and 25-year CADGRs of 2.49% and 2.40%.
WGL Holdings has split its stock twice 2-for-1 since beginning its record of dividend growth in 1977. The most recent split was in May 1995. Prior to that, the company split the stock in November 1984. For each share of WGL stock that you owned in the early 1980s, you would now have 4 shares of stock.
Over the 5 years ending on December 31, 2014, WGL Holdings stock appreciated at an annualized rate of 14.84%, from a split-adjusted $27.12 to $54.17. This outperformed the 13.0% annualized return of the S&P 500 and roughly matched the 14.9% annualized return of the S&P Mid Cap 400 index during this time.
WGL Holdings' Direct Purchase and Dividend Reinvestment Plans
WGL Holdings, Inc. has both direct purchase and dividend reinvestment plans. The plans' fees are not too onerous. You do not need to be an existing shareholder to participate. As a new investor, you'll pay a one-time enrollment fee of $15. There are no fees associated with purchasing shares, either directly or through dividend reinvestment. For new investors, the minimum purchase amount is $250. Once you being participating in the plan, the minimum purchase amount is $50.
When you sell your shares in the plan, you'll pay a fee of either $15 or $25 plus a transaction fee of 12 cents per share sold. You'll also be charged an additional $15 if you request help from a customer service representative in placing a sales order. All the fees will be deducted from the sales proceeds.
Helpful Links
WGL Holdings, Inc.'s Investor Relations Website
Current quote and financial summary for WGL Holdings, Inc. (finviz.com)
Information on the direct purchase and dividend reinvestment plans for WGL
Want to find out about more great dividend growth stocks?